Sheet metal welding is both a skill and an art
There are many steps to manufacturing products out of sheet metal. Laser cutting, punching and bending are some of the most common methods used to transform a sheet of metal into a product. One of the final steps usually involves welding the part to itself or to other parts.
While laser cutting is quite a complex process, welding is even more complex. On top of the many materials and thicknesses that can be weld together, there is the added complexity of various welding methods and weld types. The most common welding methods include: MIG (metal inert gas), MAG (metal active gas), TIG (tungsten inert gas), resistance, arc and laser welding.
Types of Weld Joints
An expert welding robot operator should be able to select the right process parameters for each combination of materials and each joint type. If the right settings are used, the robot should create strong welds as quickly as possible, with a good surface quality and minimal spatter. Expert operators are in high demand and manufacturing companies are not able to hire the operators that they need.
The increasing popularity of Laser Welding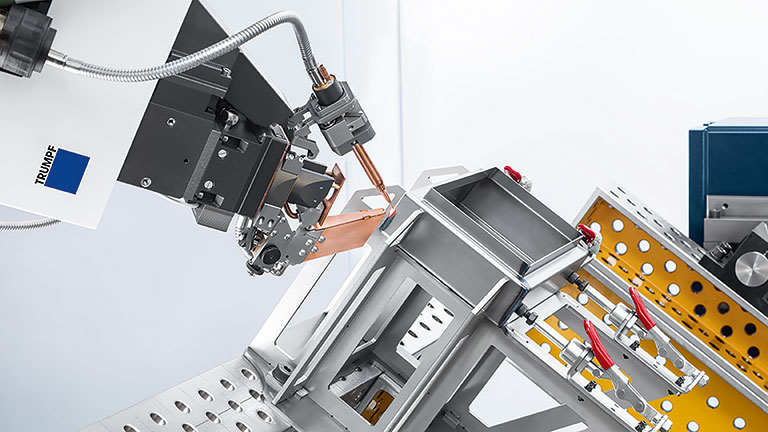 With faster processing speed and higher quality, laser welding is slowly replacing older welding methods. Laser welding also results in a smaller heat affected zone than MIG welding, reducing the residual stress in the weld. The main advantage of MIG welding is the continuously fed wire. It adds material to the weld and reinforces it. TRUMPF's Fusion Line, introduced in 2016, assists the laser with a fed wire, adding material to the weld and enabling the robot to handle larger material tolerances.
Laser welding robots must have excellent path accuracy and repeatability to ensure a reliable process. There are many factors to control, requiring an expert to program the robot and diagnose problems. Since this technology is relatively new, there isn't as much readily available know-how as with laser cutting or other welding methods. Laser companies like TRUMPF even offer their customers assistance setting up the robot after purchase.
Luckily, operators can use Optimyzer to find the right settings within minutes.
Find better settings faster with the help of AI
GaussML has developed Optimyzer, an AI-assistant that helps manufacturing companies increase their productivity. Operators get setting suggestions from Optimyzer to try on the robot, and then report back the results. If Optimyzer already has experience with this welding method and joint type, it leads the operator to better settings within less than 5 experiments.
Manufacturing companies are using Optimyzer to find better settings for MIG/MAG welding robots and laser welding robots. Optimyzer helps the operators create strong welds faster, with less spatter and a higher surface quality.
In this case study, we showcase one optimization with each welding method.
MIG/MAG Welding Robot
Type: Panasonic TAWERS TA 1400
Material: Steel, 10.0 mm
Joint Type: T
Optimized settings: Current, Feed Rate
45% faster
95% less spatter
The goal of this optimization was to find settings that would create a T-weld of good quality as quickly as possible. The material used was 10 mm thick S235JR. For this optimization, the operator chose to optimize only two settings: the welding current and the robot's velocity. The operator provided one objective and two subjective measures after each experiment: the weld thickness, the surface quality and the amount of spray residue. The weld thickness was measured with the appropriate ruler.
Within 30 minutes, Optimyzer helped the machine operator find better settings to weld 45% faster, with slight improvement in surface quality and a large reduction in the amount of spatter. With these new settings, the welding process is done much faster and the amount of rework is reduced, saving even more time.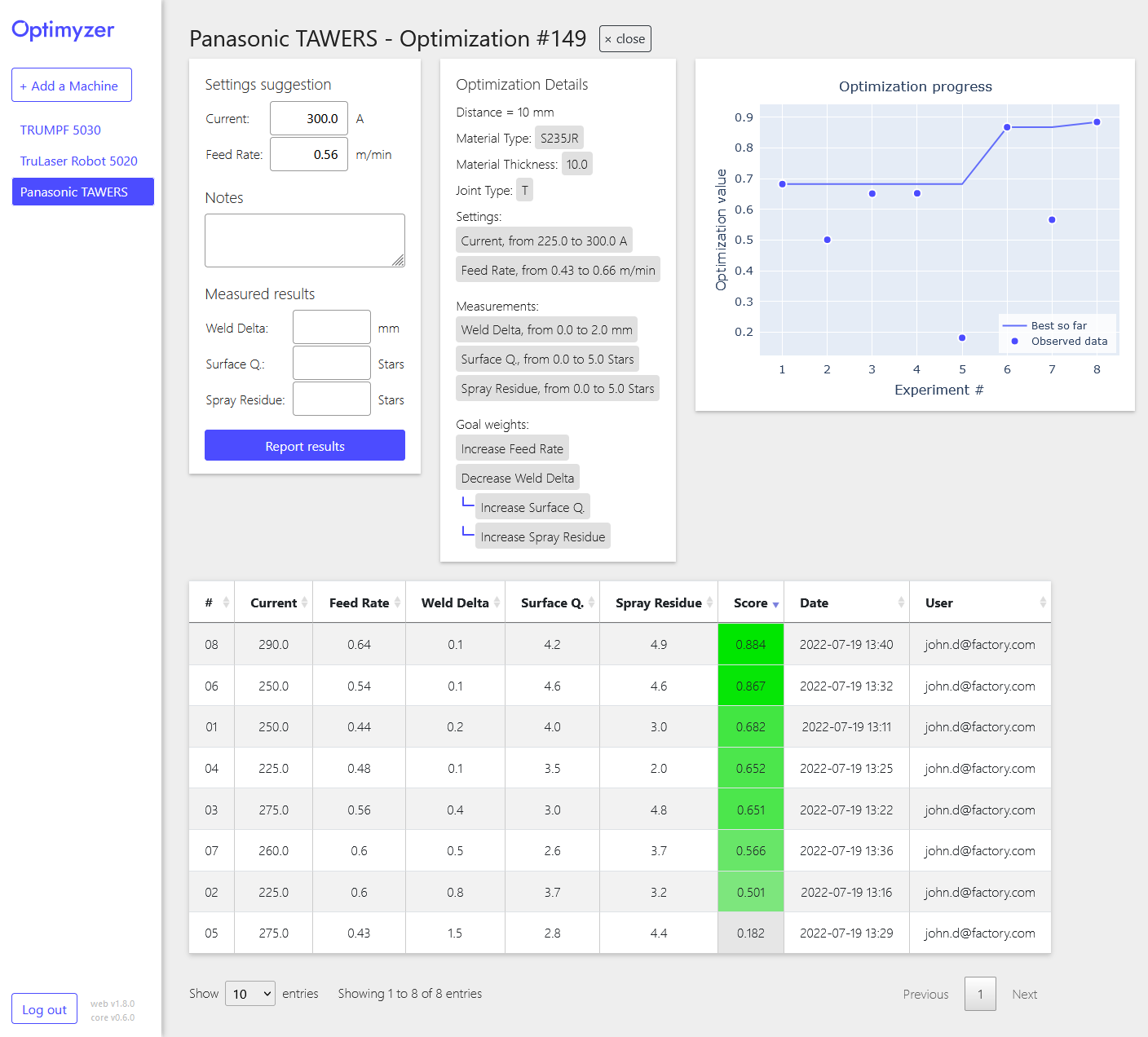 Laser Welding Robot
Type: TRUMPF TruLaser Robot 5020, 3.3 kW
Material: Stainless steel, 2.0 mm
Joint Type: Butt
Optimized settings: Feed Rate, Focus Position, Gas Volume, Laser Power
4.7x faster
The goal of this optimization was to find good settings to create a butt-weld of good quality as quickly as possible. The material used was 2 mm thick 1.4301 stainless steel. This optimization was more complex, with Optimyzer tasked with fine-tuning four settings at once: the feed rate, focus position, laser power and gas volume. After each experiment, the surface quality and spatter were subjectively measured. After measuring the weld width with a digital caliper, the weld was forcibly torn to inspect the weld depth.
Optimyzer helped the machine operator find better settings to reliably weld with a higher laser intensity. These settings created a strong, clean weld almost 5 times faster than with the original operator's settings.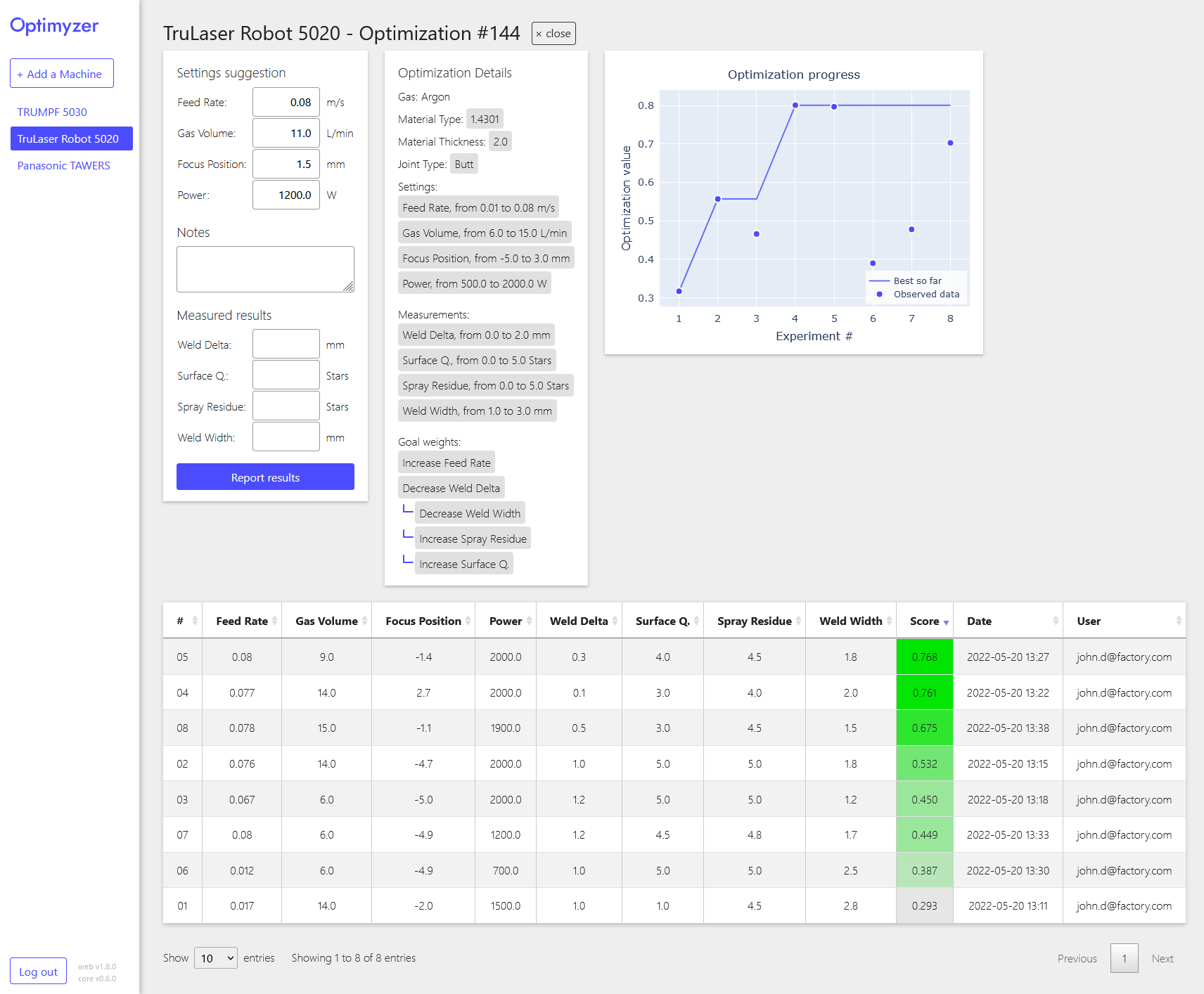 Find out how to increase the efficiency of your welding robots today.
Contact us